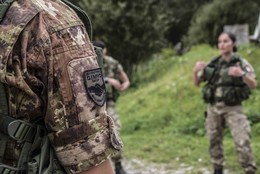 MISSION STATEMENT
CJ7 branch, in coordination with other staff branches of Multinational CIMIC Group, is to provide CIMIC training and education at the Operational and Tactical level for military personnel and civilians at a reasonable cost, in order to enhance the CIMIC capabilities of the Multinational CIMIC Group, participating nations, cooperating nations and other organisations with a view to supporting a military mission.
TASK AND ACTIVITIES
To provide continuous training and education on CIMIC related subjects, primarily for the MN CG personnel and MNCG participating Nations' personnel and subsequently to support the training and education of NATO & other Nations' CIMIC personnel;
To assist, when appropriate, training and education of military and civilians in national military / civilian institutions;
To organise and participate in CIMIC symposia and conferences;
To establish formal (MOUs & Technical arrangements) and informal working relationship with a wide range of military & civilian organisations (IOs / NGOs / Universities / Schools) dealing with CIMIC related education;
To develop CIMIC reference documents e.g. handbooks;
To receive & process the flow of CIMIC information from the Operational Theatres and update with the relevant Lessons Learned / Best Practises the Courses' curricula and the MNCG's produced documents/handbooks/guidelines;
To assist in research and development for the improvement of CIMIC techniques;
To assist in developing CIMIC play for exercises;
To assist in CIMIC play during exercises;
To act as centre of expertise accessible to all CIMIC related organisations;
To dispatch, when appropriate, CIMIC Mobile Training Teams;
To establish and run a permanent education facility at Motta di Livenza (Italy) home of MN CIMIC Group HQ;
To coordinate and plan exchange of Instructors between MNCG and Civil/Military Institutions, whenever needed and feasible in order to encourage maximum share of CIMIC experience and expertise.